Calling the Kotlin Opensource Developers
Hi fellow Kotliners,
Today I'm really excited to announce that a project I had in mind for a while is becoming reality: The Kotlin DevRoom at FOSDEM! 🎉
For the first time, Kotlin developers will be represented at the biggest European open-source conference, in Brussels on February 1st and 2nd 2020.
About FOSDEM
From the official FOSDEM website:
FOSDEM is a free and non-commercial event organised by the community, for the community.
The goal is to provide free and open-source software developers and communities a place to meet to:

get in touch with other developers and projects
be informed about the latest developments in the free software world
be informed about the latest developments in the open-source world
attend interesting talks and presentations on various topics by project leaders and committers
promote the development and benefits of free software and open-source solutions

Participation and attendance is totally free, though the organisers gratefully accept donations and sponsorship.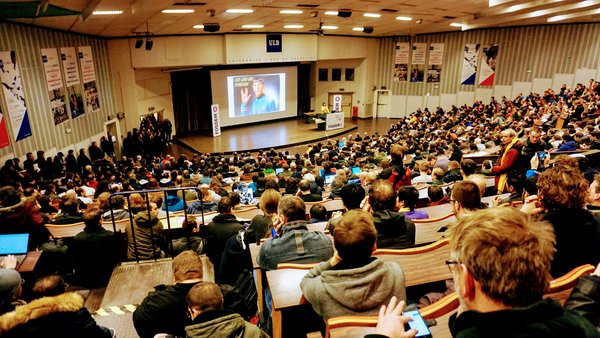 FOSDEM is really different from any other conference that you may have been to.
First, it's non-commercial, volunteer-organized and free!
I'm always amazed by the passion of everyone involved in FOSDEM organization. Every year the conference is a huge success, and this is just thanks to volunteers who spend their free time organizing it. Only in 2019, it was attended by more than 8000 developers with over 700 sessions.
Moreover, FOSDEM has something special for me: it was the first international conference I've ever been to. Initially, I was hesitant about the content. With 700+ sessions it's hard to crawl the agenda and find the best sessions. But then I realized that you don't go to FOSDEM just for the content.
FOSDEM is, first of all, an opportunity to meet with the open-source community. Every time I feel so much inspired by all the new connections, stories and projects that I found during the two days of the event.
Since then, FOSDEM is now a fixed appointment in my agenda. I can't think of a better way to start the conference season of a new year.
About the Kotlin DevRoom
The Kotlin DevRoom is a conference-within-a-conference that will allow Kotlin developers to come together and chat, hack, and share stories about Kotlin usage in the FLOSS ecosystems.
The DevRoom will take place on Sunday, the 2nd of February 2020, from 9.00 AM to 5.00 PM at ULB (Campus Solbosch) in Brussels, Belgium.
Make sure to don't miss a full day of talks, demos, and interesting discussions about Kotlin!
If you don't have an idea of what a DevRoom schedule will look like, you can check out the agenda of one of last year's DevRooms.
Finally, please note that FOSDEM is famous for having a really high attendance rate. Make sure to don't miss your seat as DevRooms tend to reach capacity pretty quickly.
How to submit a session
You can find the official Call for paper here.
There is still time to submit a session for the Kotlin DevRoom. Don't miss the opportunity to be part of the speaker lineup of the first Kotlin DevRoom.
We welcome any talk proposals about Kotlin-related projects.
Topics of interest include:
Kotlin Language
Android app development with Kotlin
Kotlin Multiplatform development
Kotlin/Native
Kotlin/JS
Coroutines
Functional Programming
Kotlin Scripting
IoT
Data Science
Libraries and Frameworks in Kotlin
We are looking for proposals for 25 minute talks (suggested 20 minute talk + 5 minute Q&A).
Please refer to the official Kotlin DevRoom Call for Paper for further details on the submission process.
Important dates
Call for papers available: 21st October 2019
Call for participation closes: 30th November 2019
DevRoom schedule available: 15th December 2019
DevRoom day: Sunday 2 February 2020 (09:00 to 17:00)
Are you excited for our first Kotlin DevRoom? Submit your talk proposal and we will hopefully see you in Brussels!
Contacts
If you're having problems or questions related to the Kotlin DevRoom, please join the #fosdem channel on the Kotlinlang Slack (sign up here).
Acknowledgement
I want to say thank you to Eugenio Marletti and Erik Hellman for supporting me with the DevRoom organization. Moreover, I want to thank the Kotlin Community for supporting the DevRoom initial proposal and for making this project possible.
Looking forward to meeting you in Brussels 🇧🇪 next year!